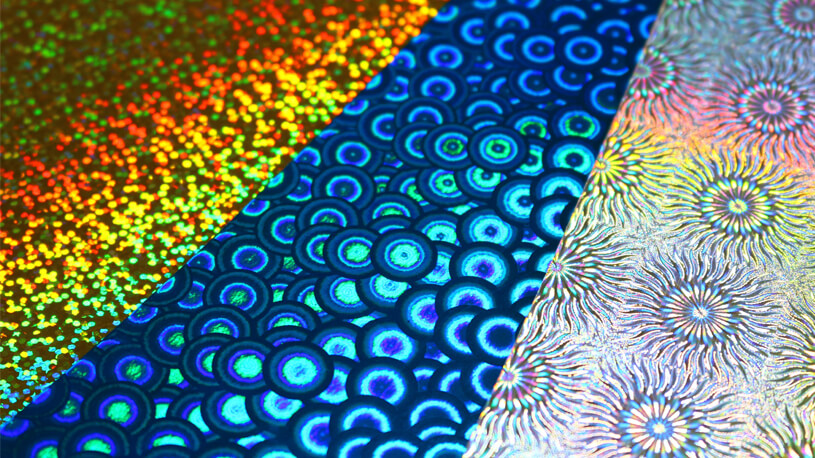 The Laser Holographic Anti-Counterfeiting Technique
Hologram Label or hologram stickers are also known as Laser Holographic Label or Laser Anti-Counterfeiting Label or Laser Security Label. It is the most widely used and most well-known Anti-Counterfeiting products in the history of Anti-Counterfeiting Development. Almost everyone has seen Holographic Anti-Counterfeiting Labels with sparkling and gorgeous appearance. However, with the continuous improvement of technology and science, counterfeiters can now easily duplicate similar Hologram Labels. And this has caused Traditional Hologram Labels to slowly lost the security performance.

The Making of Hologram Labels
1. Holographic Design

The specific requirement of the Holographic Anti-Counterfeiting Label pattern design is to first choose a real object, which requires an obvious three-dimensional effect. If the reflectivity of the object is poor, it must be metalized to improve its reflection performance in the laser. Take the real object as model, photoshoot with a holographic camera and all the optical information of the object will be recorded.
2. Holographic Master Plate
When the design manuscript is confirmed, will then send to a professional laser plate maker to make a lasered master plate. The production of the holographic master plate of the Hologram Anti-Counterfeiting Label requires special Laser Holographic Equipment.
3. Metal Stamping Plate
Plate a thin layer of conductive metallic silver on the master plate of the Hologram Anti-Counterfeiting Label, and then electroforming a certain thickness of nickel layer on the metallic silver film, and separate the master plate and metallic silver layer. The result is a molded metal plate with embossed holographic. The master plate is a male plate, and the metal plate is a female plate.
4. Imprint
The imprint process is to heat up the holographic metal plate to a certain temperature, apply with a certain pressure on thermoplastic material, and transfer the fine relief stripes on the holographic metal plate to the surface of the thermoplastic material. After cooling and separating, the surface of the thermoplastic material is formed with exactly the same stripes as the holographic metal template, which is the holographic film imprinted from master plate and metal plate.
5. Self-Adhesive and Die-Cutting
The holographic film cannot be directly pasted to a product, it must be coated with self-adhesive to make it compound with the base layer. After applying self-adhesive, the next process is die cutting according to design and then a useable Hologram Label is formed.
Upgraded Hologram Anti-Counterfeiting Techniques
Due to the dazzling appearance and eye-catching effects of Holographic Anti-Counterfeiting Labels, Anti-Counterfeiting Industry does not intend to abandon Hologram Labels, but continues to innovate and upgrade based on the original technology. Upgraded Hologram Labels combines a variety of different Anti-Counterfeiting Techniques and has greatly improved the performance, and quickly regained the attention of customers. Some examples of upgraded hologram labels are: precise positioning hologram, encrypted hologram, dual color hologram, combination of hologram with other anti-counterfeiting techniques and etc.
Formal And Professional Anti-Counterfeiting Solution Suppliers
The demands of Anti-Counterfeiting products have grown rapidly in recent years. Many irregular Anti-Counterfeiting Suppliers have emerged one after another. These new suppliers do not have professional printing equipment and experienced Anti-Counterfeiting technicians. Through Internet hype, marketing, exaggeration and other methods, the Hologram Labels produced by these suppliers are mostly substandard quality and unable to meet the standard of Anti-Counterfeiting requirements. According to the Director of Guoan Torch Science & Development Ltd Company, there are more than tens of thousands of holographic labels suppliers only in China itself. If any company accidentally cooperate with such Anti-Counterfeiting Suppliers, there is no security guarantee at all. If any problems arise, these informal Anti-Counterfeiting Suppliers may shirk their responsibilities. Eventually the Anti-Counterfeiting Products bought by companies will not able to resist the counterfeits issue but become a burden to the development of company.
Therefore, it is important to always look for a formal and professional Anti-Counterfeiting Solutions Provider to avoid unnecessary issues. For Nutrack, we have strict policies to accept new clients' purchase orders. Order Agreements, Ownership of Brands, Certificates and other related documents will be collected before we execute the order. These are to ensure that customized Anti-Counterfeiting Solutions are made only for the true Brand Owner or Authorized Dealer
Nutrack provides Anti-Counterfeiting Solutions including Physical & Digital Anti-Counterfeiting Solutions. With a combination of both Physical & Digital Anti-Counterfeiting Techniques, it not only brings convenience for consumers to check authenticity, but also ensures that the codes are not duplicable. Contact us today for free consultation.